There's no denying that both Bryan and Ransom are two smoking hot dudes. One has the eagerness for new experiences , and the other has the experience and maturity. So chaosmen got the best fuck scene with two guys that we ever recorded. Some small foreplay in the beginning led to some very nice blowjobs made by Ransom in the beginning. Having the experience, Bryan took charge after that and planted Ransom on his knees and arms to do him doggie style. He grabbed one of the cameras for some sweet POV maledigital shots of him roughly pounding his partner's ass. Well everything went extraordinary as expected, as the older male teaches the young pup the ropes!
Well we can honestly say that this is one of our best scenes and we're really proud to bring it to you guys today. Sit back and watch as Bryan and Ransom have some fun, and as a little bonus you get to see Bryan film the fuck as well as he takes the hand held cam for a nice and hot little POV scene as well. So watch as Bryan gets to shove his nice and big cock all the way in his fuck buddy's ass, and in the meantime enjoy the dude moaning in pleasure at the hard anal fuck that he gets for the afternoon. As usual we hope that you will enjoy this nice and hot update and we will see you again next week with some more fresh stuff!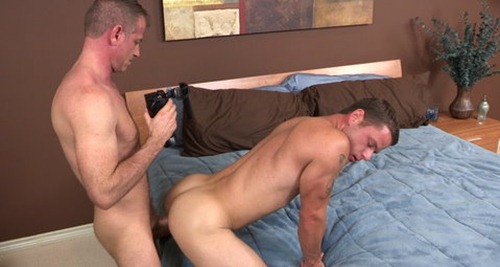 Click here and see this guy getting his ass hammered!